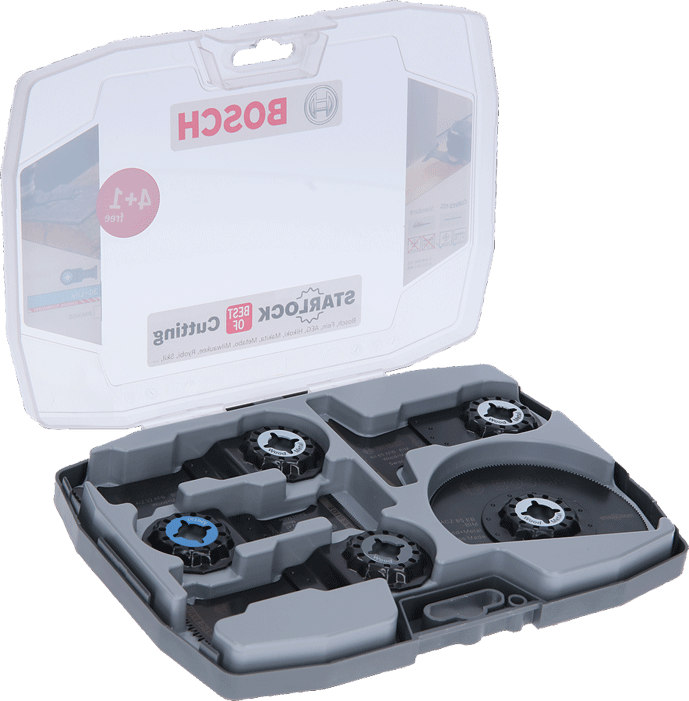 617.850.100
whatshottrending_downflash_onbusiness
{{price_gross}}
Set de lames pour machine multifonction oscillante
Le Star lock Best of Cutting est un set de 5 lames Starlock spécialement conçues pour le bois et le métal. Ces lames ont une durée de vie prolongée et sont idéales pour tous les travaux de coupe ordinaires dans du bois tendre, du bois dur, plaques de serrage, aggloméré, parquet, plastique souple, des tôles métalliques d'une épaisseur maximale de 1 mm, les profilés en métal ainsi que le mastic et le joint.
Contenu :
Coffret plastique
Lame plongeante BIM Hard Wood AIZ 32 BSPB
Lame plongeante BIM Wood and Metal AIZ 32 APB
Lame segment BIM Wood and Metal ACZ 85 EB
Lame plongeante au carbure pour Métal AIZ 32 AT
Lame plongeante BIM Wood and Metal AII 65 APB
Toutes les lames sont adaptées pour Starlock, Starlock Plus et Starlock Max.
i

2 608 664 131
3165140894715
617.850.100
Adapté à ...

Machine multifonction oscillante - 350W

Fein:MultiMaster MM 500 PLUS TOP
617.415.100

whatshottrending_downflash_onbusiness

{{price_gross}}

Le MultiTool puissant et rapide pour l'aménagement et la rénovation, livré avec plus de 30 accessoires. Pour scier le bois et le métal, poncer, déposer des carreaux et bien plus.

Données techniques :

Système anti-vibrations : travail sûr et agréable sur le long terme avec très peu de vibrations et un excellent amortissement du bruit
Porte-outil StarlockPlus, vous permet d'utiliser les accessoires FEIN et BOSCH dans les catégories Starlock et StarlockPlus
QuickIN : changement d'accessoire en moins de 3 secondes grâce au système de serrage rapide FEIN (sans outil et breveté)
Régulateur tachymétrique : vitesses constantes même sous charge et régulation électronique en continu de la vitesse de rotation

Livré avec :

Lame de scie E-Cut Long-Life (10 mm)
2x Lame de scie E-Cut Long-Life (35 mm)
2x Lame de scie E-Cut Long-Life (65 mm)
Lame de scie E-Cut Carbide Pro (32 mm)
Lame à concrétion carbure (Ø 75 mm)
Râpe concrétion carbure (triangulaire)
Spatule
Patin de ponçage perforé
5x Feuille abrasive perforée (de grain 60, 80, 120, 180) par type de grain
Dispositif d'aspiration
Coffret de transport

72296761080
4014586893259
617.415.100